Multimedia Content for the Company and Products
Split Flanges for Glass-Lined Equipment
Specially designed to secure the glass-lined pipeline in glass-lined equipment, our split flanges come with special designs which make them different from the conventional flanges. The glass-lined reactor parts offer following advantages.
Product Gallery
1. The split flange boasts two halves assembled with bolts and nuts, so it enables application after fabrication.
2. Special design ensures ease of maintenance and inspection operations.
3. It is ideal for securing the glass-lined piping system of your reactor as coupled with flange pipes.
Technical Parameters of the Split Flange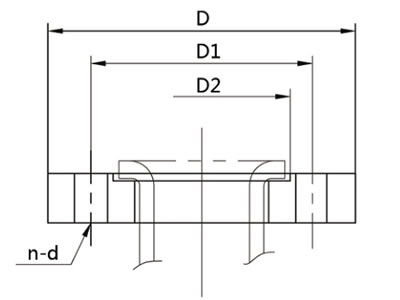 DN2
-------------
DN1
PN0.6
PN1.0
D
( mm )
D1
( mm )
D2
( mm )
n-d
D
( mm )
D1
( mm )
D2
( mm )
n-d
50
140
110
92
4-14
165
125
104
4-18
65
160
130
112
4-14
185
145
124
8-18
80
190
150
130
4-18
200
160
135
8-18
100
210
170
150
4-18
220
180
160
8-18
125
240
200
180
8-18
250
210
190
8-18
150
265
225
204
8-18
285
240
214
8-22
200
320
280
260
8-18
340
295
270
8-22
250
375
335
314
12-18
395
350
324
12-22